In 2020, I started Saint Luca with the desire to empower every woman around the globe with the confidence to achieve more in style. In 2019, just 4 days before Christmas, unexpectedly I lost my brother, Lukas. Overcoming this pain was the biggest challenge in my life from which SAINT LUCA has been born. Every piece of jewelry is a little reminder for me and for everyone, that you can recover from anything and achieve big things.
Saint Luca is not a brand - it is our life mission to bring hope and inspiration to any female.
We lost a member of our family, but this has inspired us to build a community of high achievers, dreamers, and visionaries who want to empower others…
We don't invest in expensive influencers, media to cover us, or other expensive content that premium brands do, so we can offer an affordable price for beautiful jewelry.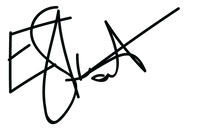 Founder of Saint Luca
Read Saint Luca Story
What Our Customers Say
34,599+ worldwide customers